Web Design & Development Services at FIU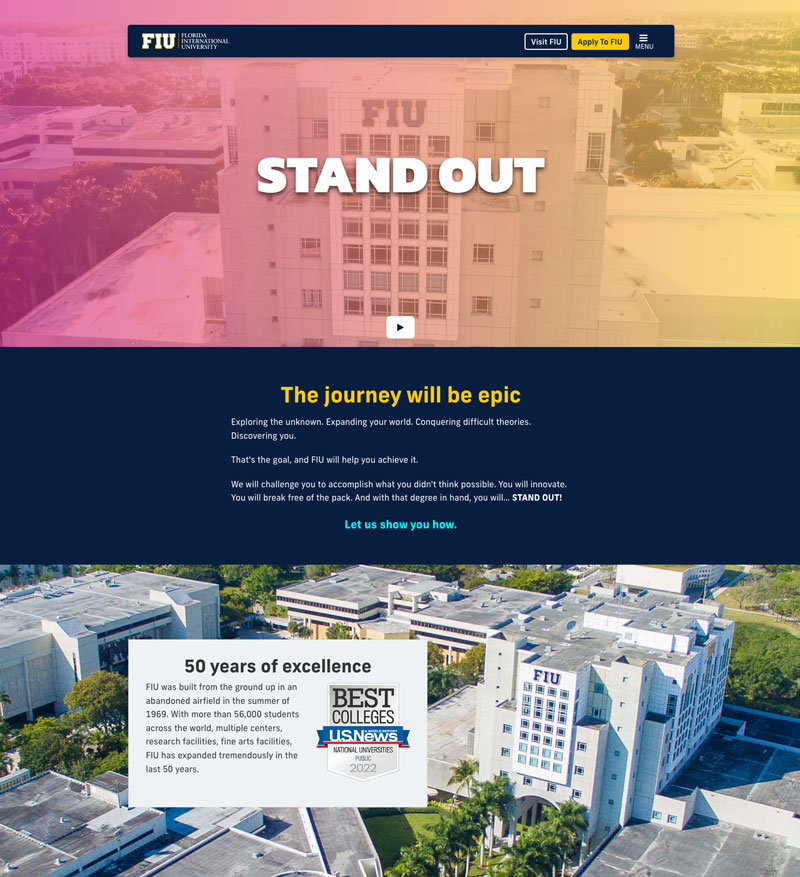 Office of Digital Communications
Our office partners with colleges, departments and units to tell FIU stories through strategic, accessible and user-friendly websites and online campaigns. We strive to simplify the lives of our digital communicators by providing expertise and leadership in Web publishing, design and accessibility.
Web services
Digital Communications provides Web design, development and content strategy services to assist in developing or expanding your FIU website.
Our work
Digital Communications has built more than 150 FIU websites including several schools and colleges. Browse through a selection of our work.
Cascade CMS & Core
Core is the Cascade CMS template developed by Digital Communications for use on FIU websites. The template makes full use of the Pantera Design System and serves as the main impetus for new design features. Core was first released in January of 2018 and is now used on more than 150 FIU websites.

There are a lot of improvements in the works with the hope that each new feature makes maintaining your website a little easier. The team is working hard on making the template work for you by handling most of the accessibility and branding implementation so you can focus on your content strategy.
That said, we're very interested in hearing from you! You can now submit requests for new features in Core, designs in Pantera or training materials for Cascade.
Website maintenance requests
Need assistance with your site? We're happy to help. Submit a request via the link below, and someone from our team will reach out shortly. If you're looking to start a new website or project, please use our Start a Project form.
Page Styles — Do not delete.